Today we will talk about how to create a festive menu and make both sides (not only the guests, but also the hosts) happy with the evening.
Before me the task to set the table for 15 people first appeared on the eve of my son's first birthday. At first I grabbed my head and didn't know which side to step on, but then I pulled myself together and started making a plan. Thanks to this approach, I was able to do everything in time without the extra help of moms and grandmothers.
Example menu for a festive table
I think each hostess has her own preferences for festive dishes, so I can't dictate to you what exactly I can't cook. And I can only ease the process of selecting recipes with the help of a universal scheme, which I developed specially for my son's birthday and which I now use all the time:
Main course (potatoes with meat or mushrooms, mashed potatoes);
Salads (3-4 pcs., I recommend to keep the balance between meat and vegetables, as well as when choosing the dressing – remember, mayonnaise is loved by not everyone);
Meat dishes (chops, cutlets, meat loafs, chicken in the oven);
Fish (at least one fish dish should be present on the table);
Slicing (meat, cheese and fruit);
Salt and marinades (vegetables, mushrooms);
Sandwiches, canapes, tartlets;
Beverages (wine, juices, compote, mineral water);
Dessert (cake, ice cream, jelly).
This list serves as a reminder of which categories should not be forgotten, and looking at it, I select recipes for the festive table, then print out the list of products and mark it with everything I need.

---
Respect the taste preferences of your guests
In food, as in everything else, it is very important to maintain balance. Do not make too vegetarian dinner, because then your guests will quickly all eat and do not feel fed, but with meat dishes too, try not to overdo it. There is always someone who may be contraindicated to meat – be sure to take this into account when making your menu. The same applies to drinks, it is better to give guests the opportunity to choose what they like.
One day my husband and I were guests and from the drinks we were offered only vodka and cola. I care about my health, so I didn't drink either. As a result, the impression of the evening was undermined by the inattention of the hostess.
Some might say I'm too naughty and have to politely accept what's being given. But there will be people who will not eat some product based on others, perhaps even too personal motives (pregnancy or illness), and they do not have to declare the reasons for their refusal to the whole world. First of all, they come to visit to enjoy the company, and no one wants to suffer at the end of the evening with stomach pain.

What to do if you don't want to stand by the stove on holiday
There is no shame in such an ordinary wish of any hostess. Especially if a woman is working and can not always ask from work to properly prepare for the holiday. In order not to have to prepare everything at once, it is necessary to divide all tasks into two days, and it is better to do the main work in the evening on the eve of the holiday. For example:
boil and slice the salad vegetables;
fry the cutlets and chops;
bake a roll;
to boil a compote.
Layered salads are well soaked overnight, and regular salads can be dressed just before serving. Cutlets and chops are quickly heated in the microwave. One day I picked up the menu so that on the day of the reception I could only put the main course in the oven and make a meat slice.
---
We offer a simple solution in three steps
Step One
Come up with a hot dish – that's the basis to which you'll choose your snacks. The ideal festive dish is roasted meat, poultry or fish – nourishing, tasty, ornate and requires minimal effort when cooking. A big family meal is the right time for a festive duck or baked ham.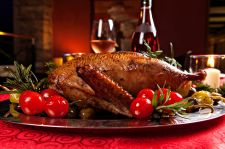 Meat, being a valuable source of protein, will ensure long lasting satiety. Do not use mayonnaise or oil in your cooking, it will only add unnecessary fat to the dish. It is better to replace them with nonfat yogurt, kefir or ryazhenka. Taking into account that the New Year's feast lasts overnight, calculate the amount of meat so that for each guest there is about 200-300 grams of raw product.
Step Two
Pick up the snacks. Two salads and one type of sandwich is enough.
If there is a tradition in your family to cook salad "Olivier" for the holiday, you should not break it, there is nothing wrong with salad when the right products are chosen.
Here you can only add that the ingredients of the salad should not duplicate the ingredients of the main course, that is, if you cook for a hot bird – in the salad add beef and vice versa. It will provide a variety of tastes.
The second salad should be fresh vegetables. Count to 500 grams per person. A light salad of tomatoes, cucumbers and Chinese cabbage will do for a good meat dish. For solemnity, add shrimp to your vegetables and the simple dish becomes festive. Don't dressing the salad immediately, it's better to do it before serving.
For sandwiches, you can choose fish filling, but not soaked in oil sprats, but canned tuna or caviar.
Step Three
Choose dessert, drinks and fruit.
Juices, alcoholic beverages and mineral water can be bought a couple of weeks before the holiday, this step will unload the bags with pre-New Year's shopping and free up some time in the pre-holiday bustle.
Remember that juices and sweet carbonated drinks contain many calories, so try to give preference to clean water. Only two glasses of orange juice contain 300 kcal, which is equivalent to one piece of cake.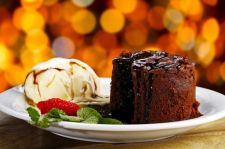 Buy more fruit: apples, tangerines, persimmons, pears, pineapples – affordable, create a festive mood and much preferable than candy and cookies. As the main dessert you can serve cake or ice cream, it all depends on your preferences.
In favor of ice cream says only the argument that it can be bought or prepared in advance and not think about dessert on the eve of the holiday. And what a field for creative serving! Ice cream can be served with canned berries, fresh fruit, various syrups, honey, chocolate, candied fruit, nuts. You can even water a slightly heated cognac and set it on fire, making a romantic note at the end of a New Year's dinner.
---